Moresmiles Dental Core Values
High Standards
A standard of excellence in personalized dental care enables us to provide the quality dental services our patients deserve. We provide comprehensive treatment planning and use restorative and cosmetic dentistry to achieve your optimal dental health. Should a dental emergency occur, we make every effort to see and care for you as soon as possible.
Education & Prevention
As a practice, we are true believers that preventative care and education are the keys to optimal dental health. We strive to provide "dental health care" vs. "disease care". That's why we focus on thorough exams – checking the overall health of your teeth and gums, performing oral cancer exams, and taking x-rays when necessary. We also know that routine cleanings, flossing, sealants, and fluoride are all helpful in preventing dental disease. Not only are we focused on the beauty of your smile, we're also concerned about your health. A review of your medical history can help us stay informed of your overall health, any new medications, and any illnesses that may impact your dental health.
Uncompromising Safety
Infection control in our office is also very important to us. To protect our patients and ourselves, we strictly maintain sterilization and cross contamination processes using standards recommended by the American Dental Association (ADA), the Occupational Safety and Health Administration (OSHA), and the Center for Disease Control (CDC).
Training & Expertise
As your dental health professionals, we want you to be confident knowing that we are a team of highly trained and skilled clinicians. We pride ourselves in providing the care you need to keep your smile healthy. To give you the best possible service and results, we are committed to continual education and learning. We attend dental lectures, meetings, and dental conventions to stay informed of new techniques, the latest products, and the newest equipment that a modern dental office can utilize to provide state-of-the-art dental care. Also, being members of various professional dental associations helps us to stay abreast of the changes and recommendations for our profession.
A Positive Experience
Building a foundation of trust by treating our patients as special individuals is vital to our success. We understand how uneasy some patients may feel about their dental visits, and how we can make a difference in providing a relaxing and positive experience. Our entire team is dedicated to providing you with excellent, personalized care and service to make your visits as comfortable and pleasant as possible.
We thank you for allowing us to take care of your dental needs and look forward to serving you.
Make an appointment today…..we'll give you a reason to smile!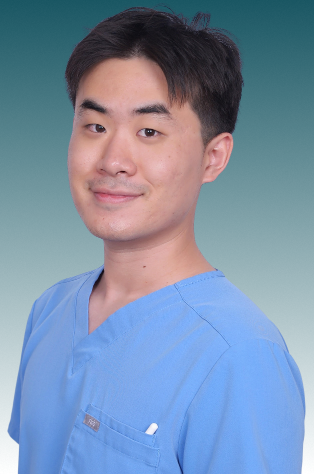 Dr. Richard Sung
Dr. Sung spent his early childhood in the beautiful city of Daejeon, South Korea. He returned to the United States to pursue his dream of becoming a dentist. Dr. Sung attended Nova Southeastern University (Fort Lauderdale, Florida) to receive his Doctor of Medicine in Dentistry degree in 2018. He further enhanced his clinical training in restorative dentistry, oral surgery, endodontics, and implantology.
Dr. Sung is excited to become a member of the Portland community. He enjoys working with patients of all ages, and he looks forward to meeting your family. Dr. Sung cares about his patients and believes that successful care begins with a solid doctor-patient relationship. He is a genuine person who wants to help you achieve your dental goals.
Dr. Sung is very passionate about dentistry and loves using his skill to help his patients. He brings high-quality dental care to his patients by staying up-to-date with dental materials and technology. His dental work is more conservative, less invasive, and has a longer lifespan. Dr. Sung shows his commitment to excellence in dentistry by investing in continuing education, learning from the best in the field, and using cone-beam scan & high magnification loupe.
Dr. Sung, his wife Kuelye, and his dog Pecan reside in Corpus Christi. Outside of the office, Dr. Sung enjoys fishing. He likes to use his spoon lures to catch Spanish mackerel at Packery channel jetties.
"We believe dental care for you and your family is not simply our job, it's our mission. And that means our goal is to offer the finest, most comprehensive dental care available in a welcoming and caring atmosphere. It's what we do best, and we do it every day."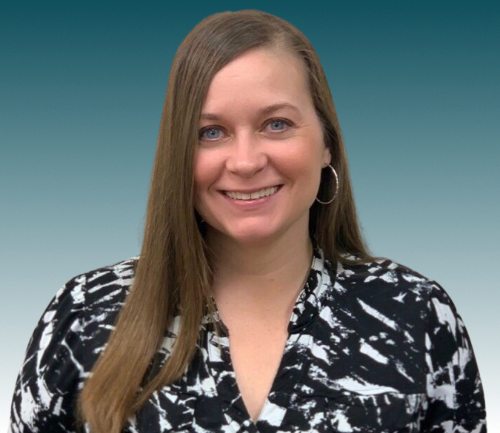 Jessica Arevalo
Office Manger
Jessica handles the insurance claims and accounts receivable along with daily operations of the practice. She has been working in the dental office field since 2007 and became an office manager in 2015. She enjoys helping patients with financial arrangements and maximizing their dental insurance benefits to the best of her ability. When she is not working, she loves spending time with her husband, daughter, and pets.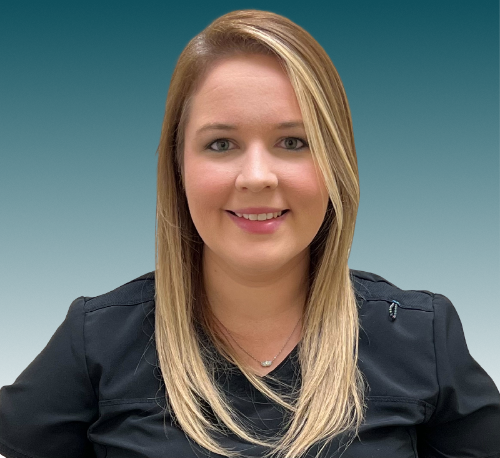 Brittany Hickel
Patient Coordinator
Brittany has been an RDA and working in the dentistry field since 2020. She loves greeting patients as they walk in, answering any questions they may have, and making sure they've had a great experience when leaving. When Brittany is not scheduling appointments or checking patients in and out, you can find her assisting the dentist when needed. On her free time, the busy mom of two enjoys spending time with her son & daughter between sport and school activities.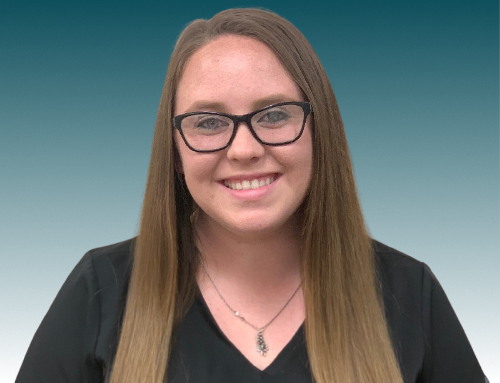 Ashley Allen
Registered Dental Assistant
Ashely is a graduate from Brightwood college and has been an RDA since 2016. Her number one goal is that every patient has a happy and educational experience each time they come in. Outside of the office, she spends her free time with her husband, son, and three dogs. She enjoys baking and spending time outdoors as well.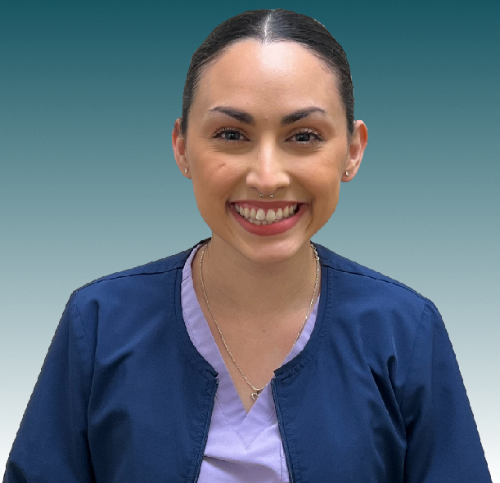 Yajaira Lloyd
Registered Dental Assistant
Yajaira, better known as Yaya, has been an RDA since 2020. She enjoys educating patients on the importance of oral health and helping patients dissipate any tooth pain they may be having and making them as comfortable as possible. When she is not at work, she loves spending time with her husband and fur baby.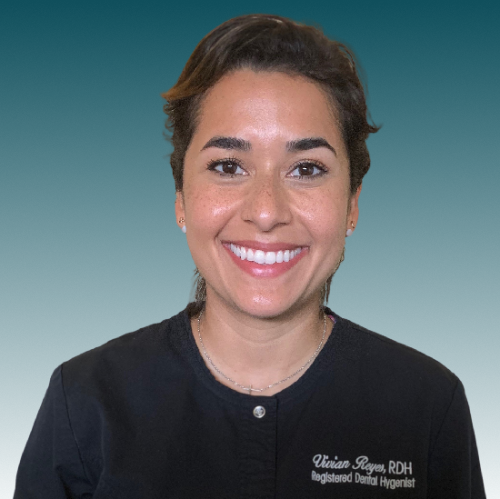 Vivian Reyes
Dental Hygienist
Vivian graduated from the Del Mar Dental Hygiene program with an Associates in Applied Science. She has been a hygienist since 2012. Her role as a hygienist is to educate our patients about the importance of oral health & ways to improve their home care. She enjoys her job because she not only sees her patients for routine check-ups and cleanings but gets to hear about their hobbies and families. One of her goals is to serve people outside her community and go on a mission trip to help those who do not have access to oral health care. In her off time, she enjoys spending time with her husband, son, and family.
Frequently Asked Questions
Do you take my insurance?
We are in network with many of the major dental insurance plans. Whether we are in or out of network with your particular plan, our insurance coordinator will help you to maximize the use of your benefits. Please contact us for specific information.
How often do I need to see the dentist?
There are many conditions that could warrant a recommendation for more frequent visits to your dentist. However, a patient with good oral health should still visit the dentist at least twice a year. Seeing your dentist every six months will help you maintain healthy teeth and tissues and will also allow for early detection of any conditions if they are developing.
Do I really need x-rays? Are they safe?
While we use the latest technology and principles to make sure to limit your exposure as much as possible, we understand that radiation exposure is a concern for many patients. X- rays are in invaluable tool to help us diagnose and treat dental disease. Just as a mechanic cannot fix your car without looking under the hood, your dentist cannot diagnose may issues without x-rays. We assure you that your radiation dose is safe. One set of bitewing radiographs is less exposure than you receive from background radiation everyday. We will always remain current with the latest recommendations and developments to assure your safety in our office.
What kind of toothpaste should I be using?
This is a very common question amongst patients, and there is not only one correct answer. If you don't have any specific conditions, we always recommend that patients use a fluoridated toothpaste with the ADA seal of recommendation. This assures that the product has been thoroughly evaluated for safety and effectiveness. The specific type or flavor is up to you, but your dentist may recommend a specific toothpaste to help you achieve your specific goals.
Always remember to use an electric toothbrush or manual toothbrush with soft bristles.
Does dental treatment hurt?
We are very conscious that fear of pain is a factor that stops many patients from seeking dental care. We do everything we can to keep you comfortable and most patients are surprised at how little discomfort they actually feel. Our staff is trained to monitor your condition and communicate clearly throughout the appointment to assure that you remain comfortable. Remember, early diagnosis can also help avoid the need for more invasive procedures.
What can I expect on my first visit?
Unless you are visiting us for an emergency, when you come to our practice for the first time you will get a comprehensive evaluation. We will start by reviewing your medical history as many conditions and medications can be linked to or affected by oral health. We will take the radiographs that our dentist specifically recommends for your case. Our hygienist will complete an oral cancer screening and a thorough evaluation of your gums and the bone supporting your teeth. This examination allows us to determine what type of cleaning will meet your needs. Our dentist will then complete a restorative exam. This exam includes confirming and combining all of the information gathered previously with an evaluation of each tooth to detect any cavities or conditions and make recommendations for your care. A treatment plan will then be generated for you to review with your doctor.
Why do I have to fix my child's teeth if they are going to fall out anyway?
Not only does maintaining healthy teeth and gums in children prevent infection and allow them to eat well, baby teeth are important place holders for the permanent teeth developing underneath them. Premature loss of baby teeth can lead to shifting or crowding of permanent teeth as they erupt. Starting routine dental care at a young age is also the best way to develop healthy habits that will help your child for a lifetime.
Why do I need to replace missing teeth?
Missing teeth are not only an esthetic concern. They can lead to the shifting of adjacent and opposing teeth. Replacing missing teeth will prevent movement of other teeth that can affect your bite and function. There are many options for replacing missing teeth. Some options include dental implants, bridges, or removable appliances. Our dentist would be happy to help you determine which option is best for you.
What is periodontal disease?
Many patients come in with concerns about bleeding or receding gums. Bacteria reside in plaque on your teeth. Consistent plaque buildup can lead to inflammation and bleeding of the gums. This is a condition called gingivitis. Luckily, gingivitis is reversible with a cleaning and improved home care. When this plaque is not removed properly it can harden and form tartar. Tartar cannot be brushed off of your teeth and needs to be removed by a dental professional. When not treated, this tartar can cause gingivitis to progress to periodontal disease which involves the loss of bone and eventual loosening of teeth. Our dentist can prescribe the best cleaning for you to prevent or treat these types of problems.
Why do I have to fix my teeth if they do not hurt?
Dental conditions often do not cause pain until they are very advanced. Treating your conditions at an early stage can help prevent pain and the need more extensive (and expensive!) dental treatments. Dental conditions such as cavities are progressive. When they are recognized early, a simple filling may stop the issue. When they progress to the point that they cause pain, more invasive treatment such as root canals and crowns are sometimes needed to correct the more severe problem.
Financial Options
INSURANCE
We will gladly process your insurance claim, estimate your deductible and the portion not covered by your insurance. The estimated amount not covered by your insurance is due at the time the treatment is done and may be paid by any one of the options listed below. Our estimates are subject to final approval by your insurance company; therefore, the amount due our office is subject to change.
NO INSURANCE
Our office requires payment at the time of treatment. A quote will be given prior to treatment. A treatment plan will be provided and will list all necessary treatment and amount due at time of service.
PAYMENT OPTIONS
Cash–includes money orders and personal checks.
Visa/Mastercard/Discover/American Express–we accept credit cards as payment for treatment to the extent your credit limit permits.

CareCredit–offers a separate line of credit to cover your entire family's health care needs.
CREDIT LINE
A credit line can be established and approval usually takes less than 10 minutes. CareCredit has an interest free option. There is no annual or membership fee. Monthly payments as low as 3% of the outstanding balance.
As a service to our patients, we are pleased to offer the CareCredit card, the nation's leading patient payment program. With CareCredit you can finance 100% of your dental care and there are no upfront costs, no annual fees, and no pre-payment penalties. So, you can begin your treatment today and conveniently pay with low, monthly payments.
CareCredit offers a full range of payment plans so you can find one that works best for you. With the popular No Interest Payment Plans* there are no interest charges if you pay your balance in full within the specified time period. Monthly payments can be as low as 3% of your balance. For procedure fees from $1,000 and up, CareCredit offers 24, 36, 48, & 60 month plan options with low monthly payments available.
CareCredit can be used by the whole family for ongoing treatment without having to reapply. And by using CareCredit for your dental care, you can save your other credit cards for household or unplanned expenses. It only takes a few minutes to apply for CareCredit and you'll receive an online decision in seconds!
Call: 361-643-7811
501 Moore Ave. Portland, TX 78374
Working Hours
Monday 9am-6pm
Tuesday – Thursday 8am-5pm
Friday – By Appointment Only
Insurance
Most Insurances Accepted